开始时间:2017-09-22 08:15
活动地点:明德商学楼1007室
联 系 人:宋老师、张老师
联系方式:
状态:
未开始
预约活动
《中国工商管理研究前沿》(Frontiers of Business Research in China, FBR)、中国人民大学商学院、联合高等教育出版社将于2017年9月22日在中国人民大学明德商学楼1007举办"组织行为学与人力资源管理"专题研讨会。研讨会邀请到香港理工大学的Jason Shaw教授到场做题为"A Construal-Level Theory of Employment Relationships and Psychological Contract Fulfillment"的报告,同时,7位来自国内院校的作者将报告相关研究论文。欢迎各位老师、学生参加。
2017 Frontiers of Business Research in ChinaSymposium on
Organizational Behavior and Human Resource Management
School of Business, Renmin University of China & Higher Education Press
September 22, 2017
Venue: Room 1007, Mingde Business Building
Symposium Chair: Lynda Jiwen Song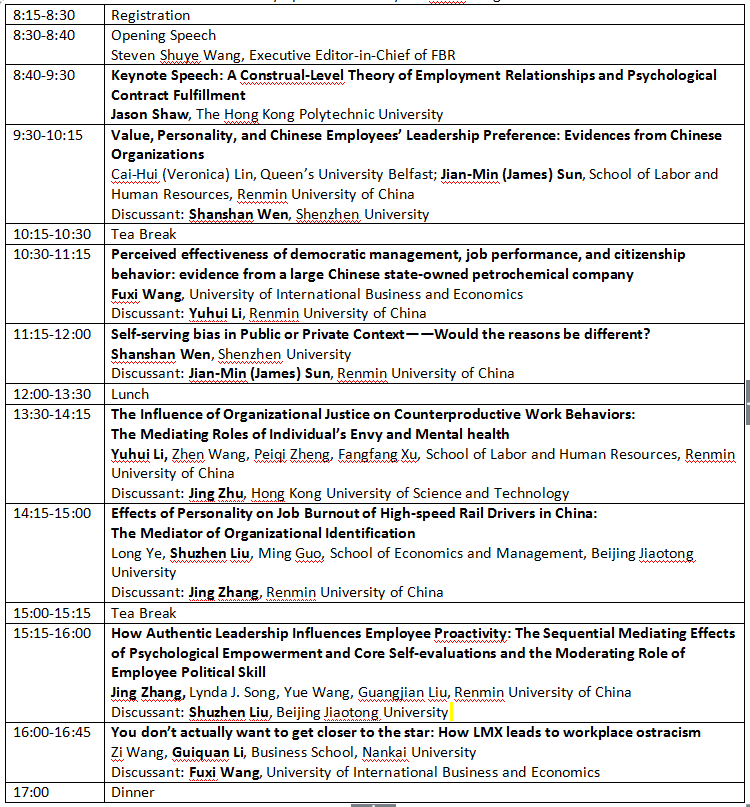 *Presenter's name is in boldface.
Keynote Speech:
A Construal-Level Theory of Employment Relationships and Psychological Contract Fulfillment
Jason D. Shaw
PhD, Chair Professor of Management
Faculty of Business, The Hong Kong Polytechnic University
Editor, Academy of Management Journal
Jason D. Shaw (Ph.D., University of Arkansas) is Chair Professor of Management in the Faculty of Business at The Hong Kong Polytechnic University. He is the Editor of Academy of Management Journal, the leading empirical journal in the field of management. Prior to his appointment at PolyU, he was the Curtis L. Carlson School-wide Professor in the Carlson School of Management at the University of Minnesota, and also served on the faculties of the University of Kentucky and Drexel University. He also served or is serving on the editorial boards of several leading academic journals in HRM/OB. Professor Shaw has served on the editorial board of Frontiers of Business Research in China since 2016.
Abstract:We introduce and apply a new theory to the study of employment relationship policies and practices. Drawing on construal-level theory, we argued that employees evaluate their organizations' employment relationship policies at abstract levels, but evaluate employment relationship practices at concrete levels. From this theoretical view, we hypothesized that employees' psychological contract fulfillment perceptions would be highest when under mutual investment employee-organization relationship (EOR) policies situations, but highest in over-investment situations for EOR practices. We predicted further that supervisor organizational identification would strengthen (policies) or weaken (practices) the predicted EOR effects. The predictions were largely supported in multi-level tests among 1,593 employees and 284 supervisors in 44 South Korean companies.
Paper Presentation
Value, Personality, and Chinese Employees' Leadership Preference: Evidences from Chinese Organizations
Cai-Hui (Veronica) Lin, Queen's University Belfast; Jian-Min (James) Sun, Renmin University of China
Discussant: Shanshan Wen, Shenzhen University
Abstract: This study compared Chinese employees' preference for paternalistic and transformational leadership. It was revealed that Chinese employees had the highest expectation of moral leadership, but they were also receptive of transformational leadership. Authoritarian leadership was least preferred. The relationship between individuals' power distance orientation, core self-evaluations (CSE) and their expectation of paternalistic and transformational leadership was examined. Both context-bounded and universal endorsement of leadership styles was found. Moreover, employees preferred leaders who they perceived to share similar personality with. We discuss the implications of the results for theory and practice.
Perceived Effectiveness of Democratic Management, Job Performance, and Citizenship Behavior: Evidence from a Large Chinese State-Owned Petrochemical Company
Fuxi Wang, University of International Business and Economics
Discussant: Yuhui Li, Renmin University
Abstract: Democratic management, a unique union-based form of employee participation in China, is understudied in the employee participation literature. The paper investigates the associations between employee's perceived democratic management effectiveness, employee job performance and organization citizenship behavior (OCB), using 988 matching surveys of both workers and their supervisors in a state-owned petrochemical firm in Central Region of China. We find that our measure of employee's perceived democratic management effectiveness is positively associated with employee's job performance and organization citizenship behavior (OCB). However, the association between perceived democratic management effectiveness and employee performance is negative if the employee is dispatch worker. Our interpretation of the findings suggests that employee's perception of democratic management effectiveness is a source of employee performance.
Self-serving bias in Public or Private Context——Would the reasons be different?